Welcome!
From our wonderful location in Lopez Village you can walk to shops, restaurants, a bakery, a grocery store with a deli, coffee houses, an award winning llibrary and so much more. Don't miss the Farmer's Market which runs from May through September. Enjoy the freindly, casual atmosphere of Lopez Island.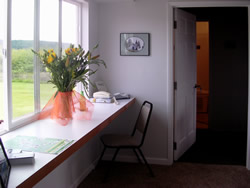 Reception area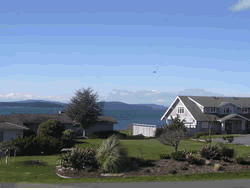 Views from Lopez Lodge and
around Lopez Village
From a happy visitor:
My husband and I really enjoyed our visit to Lopez this weekend.
I had won a contest at the Tour de Lopez this year that included 2 nights at Lopez Lodge and a $100 GC to many Lopez businesses.
We were very happy in our Studio Suite at the Lodge--cozy, nice views and everything we needed....
Your Lopez Lodge accommodations are located on the second floor of the building behind the main Lopez Plaza building. Here you will find quiet and beautiful water views of San Juan Channel and the entrance to Fisherman Bay. Watch boats as they come and go, see ferry boats going to Friday Harbor. Partake of the beautiful sunsets over San Juan Channel. The accommodations are facing West so the beautiful sunsets can be enjoyed from all rooms.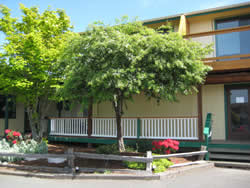 Plaza Building - west side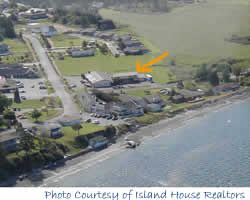 Lopez Lodge is located on Weeks Point Road behind the main plaza building in the heart of Lopez Village. Spectacular views! See the sunrise and sunset from your comfortable lodging. Click to Enlarge Aerial View of Lopez Village.
In The Plaza buildings where you will be located you will find:
Holly Bís bakery (468-2133)
Buckyís Lopez Island Grill (468-2595)
Chimera Gallery - Lopez Artist Guild (468-3265)
La Boheme (coffee shop)
The Barber in the Ville (468-2661)
Lopez Bookshop (468-2132)
Islands Weekly (468-4900)
Lopez Island Prevention Coalition
Kwiaht (environmental research)
Fisherman Bay Sewer District Office
Lopez is a great place to experience nature - we have many beaches and parks with walking trails through a variety of terrain.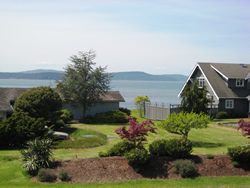 With Village Park and Weeks Wetland just a few steps from the Lopez Lodge, there are plenty of opportunities to view local wildlife. The island has many other parks and open spaces to explore.